I don't want to suggest that we Californians are emotionally overinvolved with our rides, but if there's a way to have intercourse while in two separate vehicles, we'll find it.
I doubt this surprises you, in a state where:
There is one registered automobile or light truck for every 1.8 humans – only seven states have more cars that L.A. County, by the way.
Our Governor, who made his fortune playing an uncontrollable metal machine, owns a Gulfstream III and four HumVees – oh, and was cited last year for driving without the requisite license when he crashed his motorcycle with his son in the sidecar. (Celebrity cocoon, anyone?).
A bottle blonde behind the wheel of an SUV with a cell phone in one hand and a latté in the other is spotted more often than your garden variety sparrow.
"Professional driver, closed course. Do not attempt."
The fine print that ranks right up there with "Please drink responsibly." Stern admonitions, both, invisible as they nearly are at the foot of tableaus of exalted youth, beauty, virility, and social superiority. Why shouldn't we persuade our offspring to kill themselves with speed and hydrocarbons, just as they should with alcohol; high fructose corn syrup; impossible footware; saturated fat; and tobacco?
Because, in the process, they're killing us and everything else on the Big Blue Marble – other than that, not so much a problem.
I've eavesdropped on waterhole conversations with the younger, potential alpha males in the troop; when the subject of personal transportation comes up there might as well be loincloths and chest-beating. Anything less than eight cylinders or torque to fewer than four wheels on command is a straight line to loss of face and tribal position. Comfort, styling, and mileage are not mitigating factors. Safety? Hah! Economy? A pox on your household!
It gets uglier when the mate and offspring are introduced into the conversation. Shun a richly-appointed minivan for an urban assault vehicle that is nothing more than cosmetic testosterone bolted to an SUV chassis and tricked out to make it even less drivable, comfortable, efficient, and safe? Of course! You have learned well, Grasshoppers.
It's the death of logic, the failure of reason in the face of the naked truth: "I am 21st Century Man – and I do it because I can!" How else to explain the obsession with four-wheel drive when "off-road" means no more than accidentally backing over the flower bed? How else to justify the acquisition of anything as purposely ugly as a Honda Element or a Toyota Scion "SUV" to avoid the stigma of "station wagon?" How did chunky obscenities like the Cadillac Escalade and the Chrysler 300 come to represent the gold standard in body styles? (Share my personal vision of German engineers, shaking their heads and banking their bonuses for designing overappointed, high-centered, rib-jarring boxes that Americans sprint to – right past their impeccable and efficient, competitively priced coupes, roadsters, and sedans.)
There are a few things about contemporary vehicle tastes that elude me completely. Very likely it's a function of age, mine and theirs; to me, beauty has always been bound up with design and appointments that satisfy both the esthete and the engineer – aerodynamics, as an example. Think of the 1955 Porsche Speedster and the original 1961 Jaguar XKE: body designs that are clean, spare, and stylish, to be certain, but sculpted to reduce drag and hug the road better. When I was kid, building Revell models, you said it cosmetically with candyflake and chrome—air cleaners; headers; manifolds; "baby" Moons; Lake pipes; and dual exhausts. Inside, it was roll, tuck, and pleat; full-grip shifters; and polished metal accents. If you wanted a ride to the edge, you hitched with George Barris in the prototype Batmobile or with Ed "Big Daddy" Roth and his cartoon sidekick "Ratfink." (Appears the latter are enjoying something of a revival, which makes my joints a little more fluid. Can't help but wonder, though – what would Kenny Howard do with one of his finely turned out knives if he could see what those squirrelly Danes have done with "Von Dutch?") Point is, the central ingredients were imagination and some sort of unique statement.
The things which I find ignore those ingredients and thereby add nothing:
Asian "speed." Street racing is epidemic in California, say the gendarmes, and the accusatory finger at the end of the long arm points most often here. Low-clearance, tricked-out Japanese sedans with flimsy fiberglass skirts are the order; particolor or mixed primer paint are also frequent, it seems, along with mix-and-match rims (black in front and high-design chrome in back). I'm guessing their genesis came from imported Hong Kong Stuntmen's Club flicks, as refined domestically by Vin Diesel and Ice Cube. I'm round-eyed, so it's all a mystery to me, but what really befuddle me are tuned exhausts. A grand and up for an outsized baffle and electronic gadgetry that makes your car sound like a herd of annoyed mosquitoes?
Big-ass Tires. Partner, I know you're not goin' off-road with that monstrosity, given what you've sunk into that overstrung suspension – and the differential cover is chrome, f'crynoutloud. So, explain to me why you're trying to corner the market on petro-rubber. Comfort? Drivability? Mileage? (Is it my imagination, or are most of those guys in the left crow's nest slightly built with wispy mustaches, and the adjustment tab on the "Peterbilt" ball cap is pulled so far over to the right that hat size might be on the early side of 6?) How about compensation? One request, if you please: Once you've mounted those Mall-Trekkers, would you adjust your headlights, so we Earth-dwellers aren't rendered sightless by your "low beams?" Much obliged, Scooter.
Bikes. It's well beyond argument that most latter-day bikers are upper middle class "weekend warriors" demonstrating disposable income – Marlon Brando's "Wild One" fantasy has been displaced by real gangs that are better armed than Al Qaeda and Sonny Barger is on his third book/licensing/merchandising tour. You're not a rebel and you're not fooling anyone. That's a uniform you're wearing
"Beanie-over-backwards-Harley-ball cap-over-Harley-do-rag? Check.
Heavy silver, pan-head pendant? Check.
Sleeveless leather 'Hell's C.P.A.s – Secretary-Treasurer' vest? Check.
Studded leather wrist-cuffs? Check.
Sharp-creased, brushed denim trousers under black-leather, rough-out chaps? Check.
Heavy, buckled cycle boots with custom orthopedic inserts? Check.
American Express – 'just in case?'" Check.
'Helmet Laws Suck!!!' bumper strip? Check."
To be fair: God bless you for helping saving Harley-Davidson. Why shouldn't crotch-rocket jocks have an American choice that's inferior to what the original Axis of Evil engineers and turns out, just like car owners? And your clubs do good works, passing out toys at Christmas and such. (B.A.C.A. – "Bikers Against Child Abuse." No kidding; how's that for psychological whiplash?) Live and let live, I say; enjoy your hobby – just three modest requests, if you please:
Tune the fucker to a reasonable idle speed – i.e., faster than a human heartbeat – and use street-legal pipes if you're going to exercise your fantasies and your throttle wrist in my neighborhood.
Get your "living will" properly executed, with the "do not resuscitate" box checked, and slip it into your pocket when you mount up, so my Medicare withholdings aren't wasted scraping you up and slapping you on a ventilator because you "wanted to feel the wind blowing" through your gray ponytail.
Donate your organs – everything but the brain.
Thanks in advance.
To briefly digress: in every sin there lies redemption. A while back, Red and I were cruising south when a chopper swooped in ahead of us; it was a warm day so the biker was business-casual – as described above, but sans vest and chaps. Emblazoned on the back of his standard charcoal T-shirt, below the Harley-Davidson logo, was this: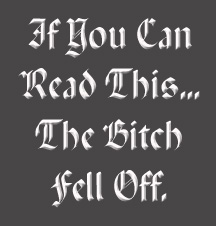 Next Week: Car alarms to pickups.