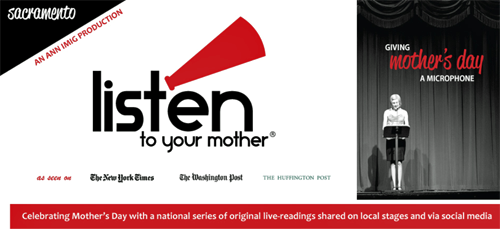 If you didn't "Listen to Your Mother" last night at the Crest Theater, you missed it.
Listen to Your Mother is a national effort to "give Mother's Day a microphone" by staging local, live readings of original essays for, by, and about motherhood that are recorded and shared afterward via social media.  Thanks to co-producers/directors Margaret Andrews, and LTYM-SF alumna Nichole Beaudry–both local bloggers extraordinaire—Sacramento joined 23 other cities and regions in bringing LTYM to the Crest, up close and personal.
Margaret, Nichole, and 13 other local women writers shared their own personal, powerful, and sometimes intensely painful–and we're not just talking labor and delivery here, guys–epiphanies from before, during and after being in a family way, or sharing air, scent, and space with others who were.  Every one was remarkable and memorable; some are more seared in my brain than others.  I had my own favorites, of course; in order of appearance:
Laura Meehan's "She Needs Groceries," a personal appreciation that resonates with anyone who's ever been forced to take one or more of their micro-citizens into the maw of public purchase, where humiliation and approbation abound.
Emma Valdez Wall's "MotherSmell," a reminiscence on her own sensual experience of her mother, in her disparate personal and social personae, that bordered on epic poetry.
Janelle Hanchett's "The Letter I Had to Write Once," an embarrassed, furious, profane, gut-wretching, and crazy-funny apology to her six-year-old son, "Rocket," for a personal lapse that took her out of his life for a time.
Margaret's "Avocado Green and Other Things That Are Wrong," a paean to an uncool, unfashionable, and halfway-unhinged upbringing whose superintendent–Mom–overflowed with the indispensable essences of life: love, loyalty, and laughter.
Didn't make it?  No worries.
All these treasures will be on display soon on LTYM-Sacramento's website.  Don't wait–go there now so you can learn more about all the cast members, the national organization, and the various causes LTYM supports.  Link up with and support last night's local sponsors:
Other than all that–the best part?  Ten percent of last night's ticket sales went to 916Ink–Sacramento Youth Writers, an organization that makes it its business to turn kids' lives around by tempting them into the literary arts. They do amazing work.  So–call Katie at (916) 284-7560 and ask her how you can help.  I don't know if she's equipped to take your credit card information over the phone; if not, grab your checkbook and send a tidy donation to:
916 Ink
P. O. Box 162605
Sacramento, CA 95816
G'head–do it.  Everybody wins.