Our local National Public Radio affiliate, Capitol Public Radio, inaugurated its "CapRadio Reads" book club with a launch party Tuesday evening for first-time novelist Robin Sloan's Mr. Penumbra's 24-Hour Bookstore.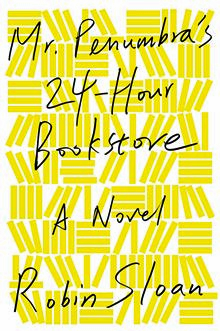 What a splendid evening it was.  Mr. Sloan—a 30-something Michigan State graduate in economics who spent the last decade knocking around Silicon Valley tech—was charming, complex, and clever, just like his prose.  Donna Apidone, a mellifluous CPR veteran, was a sly and generous inquisitor, opening doors with aplomb and getting out of the way just as quickly.  (She asked him why the dust jacket says he "splits his time between San Francisco and the Internet."  His response: "I've seen authors who say, 'Oh—I split my time between New York and Portugal.'  Who gets to do that?  I don't—but I wanted to say something."
To business.  Mr. Penumbra's 24-Hour Bookstore should be read only by:
Bibliophiles who wish for technology to remain the servant of knowledge, not become its master;
Fans who prefer that their conspiratorial cabals are secular, not sectarian, and that their carefully cloaked and guarded ultimate purpose will, if achieved, not really hurt anybody else;
Those who long for a updated metaphor of a helpless planet clutched in mega-corporate tentacles that is suitably sinister, but in a kinder, gentler, and more hapless way; and
Action procedural readers who've ever longed for, say, Robert Langdon to be a little more honest and self-effacing about his own shortcomings, rather than having to hang around until a Deus ex Machina, Sophie, or who or whatever eventually drags it out of him.
Clay Jannon is a web designer who has his first employer, a San Francisco startup founded by ex-Googlers called "NewBagel," shot out from under him less than a year after school, laying waste to his imagined digital career arc ending in wealth, independence, and philanthropic greatness.  At loose ends, he fills his time with walks up and down The City, wrestling with himself over whether to bite on any in-window "Help Wanted" signs.  ("Legitimate employers use Craigslist," he tells us.)  He soon does, of course, intrigued by the vaguely-worded placard at the eponymous bookshop, next door to Booty's "on Broadway, in a euphemistic part of town."  He meets its ancient proprietor and his incipient employer, who intones:
"What do you seek in these shelves?"
That, the two-question job interview, and the establishment itself are antithetical to Clay's experience and programming.  The only technology evident is "a decrepit beige Mac Plus."  More Transylvanian interior skyscraper than retail library, the store's euphemistic front display area and laughable inventory cower before three stories of obscure, archaic volumes, shrouded in darkness and dust, and accessible only by ladder.  Clay is hired because his evident skills tend more to the simian than to sales.  His job description?
Hold down the graveyard shift.
Mollify and dispense with accidental patrons as swiftly and efficiently as possible.
Manage the store's old, mysterious regulars respectfully, fetching their shelved volumes and recording all facets of their comings and goings, longhand in a Dickensian ledger.
Don't read anything shelved, mind your own business, and don't take anything home.
Ah, the regulars: of both genders and united in resolute eccentricity.  They arrive and depart with precision and purpose, crisply demanding their selections only from the Wayback list.  Conversation with Clay is plea, interjection, and occasional utterance of their passphrase, "Festina lente."  According to Wikipedia, the phrase is a classical adage and oxymoron meaning "make haste slowly" or "more haste, less speed," used as a motto variously by Emperor Augustus and the Medicis, among others.  It was also represented graphically by a dolphin entwined in an anchor amid the characters "ALDVS"—the mark of Aldus Pius Manutius the Elder, a real Italian humanist who founded the Aldine Press in Venice (northern Italy, not Muscle Beach) in 1494.  His doughty and equally mysterious typesetter was Griffo Gerritszoon, whose only evident legacy is a poor approximation of his invented typeface, a font named after him that comes installed in all new Macs—and Microsoft, when it feels like it.
His curiosity indulged and the plot suitably thickened, Clay enlists the aid of his friends—
Kat, a savant with three years in at Google and aspirations of immortality who becomes his love interest;
Mat, his art-school classmate, roommate,  and Old School (i.e., 3D models built by hand, not CGI) FX hand at Industrial Light & Magic, who fills his spare time building a city in their kitchen;
Neel, his best friend from sixth grade who's built a minor empire around Anatomix, a female body part simulation/enhancement program vital to video games and digital cinema—otherwise, he's not budged emotionally from their Dungeons-and-Dragons days; and
His night-shift colleague Oliver, a Berkeley grad student in archeology, training to become a museum curator
—to assess and unravel the deepening mystery of the fellowship of the Unbroken Spine.  Armed with its passphrase and talisman—two hands joined like an open book—they combine Kat's Google access and resources, Mat's modeling skills, and Oliver's way around antiquity with Clay's coding skills to unlock the identity of the Master.  Then, they're off on a quest to locate the fellowship's subterranean Reading Room, the repository of all its secrets
This is not your typical adventure.  No bullwhips, fedoras, or exotic, evil foreigners; instead, a gang of geeks into workplace rock-wall climbing, self-conscious macrobiotic diets, and vanity T-shirts.  Their "villains," such as they are, are old, distracted, and subcorporate—geeked out themselves, on books.  No Gulfstream jaunts to craggy or post-Renaissance European capitals—just a red-eye to Gotham on borrowed coach tickets and doubling up at a cheap hipster hotel.  The denouement takes place at a storage facility in Enterprise, Nevada.  Not only is it no less satisfying—it's hilarious.  It's the Four Stooges against the Franciscans, astride the digital divide, with the future of printed books and all of human knowledge at stake.  Or not.
For me, Clay's style as a narrator is the best part of this tale.  Imagine a round-shouldered, Casual Friday nerd instead of Steve Carrell in The Office—or, more likely, Matthew Broderick in Ferris Bueller's Day Off—looking at you, spontaneously and occasionally, to offer his own color commentary to the story's play-by-play.  It's honest, charming, revelatory—and hilarious.
Did I mention that Sloan is clever?  You'll find yourself Googling "Gerritszoon" and "font."  (Yes, you will.)  The name of the Manhattan pub where they plot their book burgling?  "The Anchor and Dolphin."  To accomplish his mission, Clay is required to cast about in subterranean darkness to find specific volumes.  The dust jacket of Mr. Penumbra's 24-Hour Bookstore glows in the dark.
I rest my case.