"…and the Sheriff rides up like a J-Lo thong…"
I've never parked cars for money, but I've been a bartender and a waiter, so I feel I'm basically qualified to be a screenwriter.
Worth a try, I thought. I bought some books, took a class, and hung out with a local group of wannabes. One of the discoveries that delighted me was that the pros place a lot of stock in Joseph Campbell's ruminations on the structure of myth – if not its place and importance in human culture. (I read his stuff in college in conjunction with philosophical and theological pursuits; he's a real guidepost if you're wrestling with questions of belief.)
Anyway, I tried. And in ways succeeded, with a good story at the very least. Here are my efforts to date, some dramatic screenplays, some comedic screenplays and some traversing those boundaries.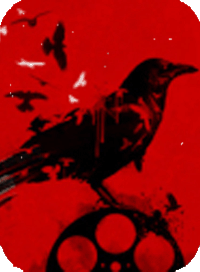 Feature-length horror/romantic comedy, adapted from Bon-Bon, Edgar Allan Poe's first short story, published in 1832.
Logline: To save his daughter's life, a decorated celebrity chef must sate the Prince of Darkness by presenting him well-fed, pop-culture icons of his choice, to harvest and devour their souls.

Feature-length dramedy, adapted from my story.
Logline: An octogenarian cowgirl and her best friend, a retired saloonkeeper, resort to drugs, kidnapping, and interstate flight to escape the nursing home and reclaim their lives.

Feature-length, original dramedy inspired by September 11 and Remembrance Day.
Logline: Broken by 9/11, a bitter and alienated World War II veteran plans his end, but his great-granddaughter and her best friend have other ideas.

Short Drama, adapted from my story; Flash animation collaboration ongoing.
Logline: A recently-divorced father sharing custody of his small boy learns about parenting in an unlikely place – Death Row.

Short Drama, adapted from my story.
Logline: Adrift in his own life and paralyzed by competing belief systems, a high school graduate gets direction and purpose from a surprising source.