Today, I remember my friend and colleague, Lisa J. Raines, and her husband, Stephen Push, who survives her.
Lisa was one of 59 passengers and crew aboard American Airlines Flight 77 who were murdered when five al Qaeda hijackers deliberately crashed that airliner into the Pentagon at 9:37 AM on Tuesday, September 11, 2001.  Inside the Pentagon, 125 people died.  The flight had departed Washington, DC's Dulles International Airport at 8:20 AM, en route to Los Angeles International Airport.  She was 42 and she and Steve, who had been married for 21 years, were living in Great Falls, VA.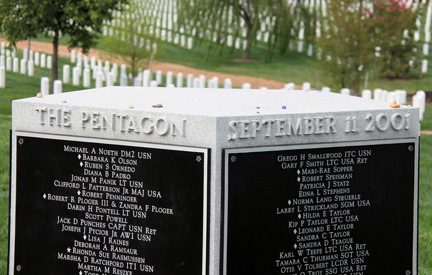 9-11 PENTAGON VICTIMS' MEMORIAL, SOUTHEAST VIEW
(Source: Wikipedia)
Lisa was Senior Vice President for Government Relations in the Washington office of the Genzyme Corporation, a biotechnology company that develops medical projects; she had held that position for nine years.  She was responsible for federal legislative and regulatory policy issues and was involved in several major pieces of health care legislation, including the Biotechnology Patent Protection Act of 1995; the FDA Export Reform and Enhancement Act of 1996; and the Food and Drug Administration Modernization Act of 1997.  According to her New York Times obituary, Sen. Ted Kennedy had given her the pen he received from President Bill Clinton upon signing the FDA Modernization Act, in recognition of her role in its passage.  She also worked with the FDA in 1997 to develop a new policy governing cellular therapies.  Before Genzyme she'd served as both Director of Government Relations and Vice President of the Industrial Biotechnology Association, where she helped formulate the Drug Export Amendments Act of 1986, the Process Patent Amendments Act of 1988, and the Prescription Drug User Fee Act of 1992.
I met Lisa in the Fall of 1983.  I had just been hired by the Biological Applications Program at the now-defunct Office of Technology Assessment—which advised the Congress on new technologies—to direct a study called "Alternatives to Animal Use in Testing and Experimentation."   The project had an Advisory Panel that was evenly divided between research and industrial scientists and animal rights and welfare activists; I guess they thought my political skills might come in handy.  Lisa was already aboard as our Legal Analyst.  We hit it off right away because we had much in common.  She had graduated from Georgetown University Law Center nine years after me; she was New York Jewish, opinionated, and argumentative, and I was raised Irish Catholic in the Northwest.  Incredibly bright and a consummate advocate, Lisa cared about her work and took it seriously, but engaged everyone as a peer and never let an opportunity to laugh pass us by.
We had one other thing in common—we both worshipped Billy Joel in all respects, except the most obvious.  It must have been in late 1984 or early 1985 when Geri and I were at dinner with Lisa and Steve in their home.  Billy wailed in the background, and our conversation turned to his comings and goings.  Soon, she seemed exercised about some detail that came up.  This is how I recall the conversation:
"How could he possibly go for someone like that?"
"Who?"
"Christie Brinkley."
"I mean, what does he even see in her"
"Um—she's gorgeous?  And rich?"
Despite the good-natured tormenting, she stood her ground.  No cause was too unimportant for Lisa.
We moved west three years after that and, except for a couple of business-related calls infused with catch-up, fell out of touch.
Stephen honored their bond and her memory by devoting himself to uncovering the truth about 9-11 by asking the question: "How could, and did, this happen here?"  He spoke often and testified before the 9-11 Commission and appeared in the media.  He co-founded Families of September 11, which has evolved into the For Action Initiative, whose mission is:
To raise awareness about the effects of public trauma and terrorism on people, societies, and the world, and to educate teachers and our youth about the history of terrorism, international relations, global security, and domestic and international policies. To inspire young people to take action—as individuals and as part of their community—and support efforts that someday might prevent future acts of global terrorism.
Stephen, I cannot begin to imagine the pain you've experienced.  My son goes into harm's way to rescue warriors and victims of terror, and that inkling of possible loss is terrifying–and I can rationalize it.  I hope you've taken comfort from the fact that you've matched and exceeded your love's dedication and eloquence, on her behalf.
Lisa, you enriched our lives by coming into them, and I will always remember and be grateful.  You can take satisfaction that Billy has written that life with Christie was difficult—and he's unattached.
This is for you both.