If I've read a more elegant and absorbing a tale of the danse macabre between morality and mortality than M. L. Stedman's The Light Between Oceans, I don't remember it.  (The book is the second selection for CapRadio Reads, Capital Public Radio's most excellent book club.  We're meeting Tuesday, March 12 to discuss it.)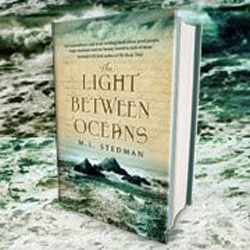 Stedman is a native-born and raised Aussie now living in London, and her debut novel is the story of Tom and Isabel Sherbourne, Western Australians thrown together by Tom's pursuit of a lighthouse keeper's station on Janus Rock, a half-day off the continent's southwestern tip and astride the Indian and Southern Oceans.  A four-year veteran of World War I's Western Front, he seeks that solitude to escape—or manage, at least—his post-combat demons and to come to terms with his mother's desertion at a tender age and the distance it opened between him and his father and brother.  Headstrong Isabel is the headmaster's daughter—and only remaining child, her brothers having never returned from the War—in last landfall Point Partageuse.  She charms troubled Tom with her forthrightness; they court, to Tom's fragile limits, and are wed and into their solitary posting within weeks.  The couple's isolation incubates a relationship that begins in self-conscious mutual discovery, germinates in her persistent warmth, and blossoms into love.  She becomes his bulwark against the relentless invasion of his quadrennium of accumulated horrors:
Sometimes when he wakes up next to Isabel he's still amazed, and relieved, that she isn't dead.  He watches closely for her breath, just to make sure. Then he puts his head against her back and absorbs the softness of her skin, the gentle rise and fall of her body as she sleeps on.  It is as great a miracle as he has ever seen.
A tempest delivers them a boat containing a dead man and a live infant, a happenstance that—following "Izzy's" three miscarriages—propels them, alone and together, into a maelstrom where regret, deception, and betrayal prevent them from finding footing, let alone balance, between the demands of principle—or is it simple, human kindness?—and their hunger for happiness.  Their descent sweeps in everyone in her hometown, with all the coincidence, complications, and cruelty that suffering citizens living in close and desperate circumstances will invent.
Most pleasurable to me was Stedman's selection and development of her wonderful "man-and-the-sea" metaphor.  Here stands the Janus Rock light, alone at the intersection of two oceans, one forgiving and the other foreboding.  Good and evil?  Its magnified beacon pierces the endless water's blackness thirty miles in every direction, shepherding sailors and their vessels away from hidden harm, while the tower that houses it and its ministers within are at the mercy of the deep's every random, destructive whim.  They are all potential victims of its sudden wrath, but only those riding the waves are granted the power to save one another.  Her respect and love for where land meets sea shines in warming prose:
For just a moment, her mind tricked her into hearing an infant's cry.  She dismissed the illusion, her eye drawn instead by a pod of whales weaving their way up the coast to calve in warmer waters, emerging now and again with a fluke of their tails like needles through tapestry.
Grounding her morality play mostly in the decade after "The War to End All Wars" in tiny Partageuse struck me also as a profound decision.  She recounts how the village was born almost as an afterthought in the taming of the country's western frontier, due to its native timber and available transport.  Its development provided the grist for its postwar grief:
Then in 1914 things changed.  Partageuse found that it too had something the world wanted.  Men.  Young men.  Fit men.  Men who had spend their lives swinging an ax or holding a plow and living it hard.  Men who were the prime cut to be sacrificed on tactical altars a hemisphere away.

Nineteen fourteen was just flags and new-smelling leather on uniforms.  It wasn't until a year later that life started to feel different—started to feel as if maybe this wasn't a sideshow after all—when, instead of getting back their precious, strapping husbands and sons, the women began to get telegrams.  These bits of paper which could fall from stunned hands and blow about in the knife-sharp wind, which told you that the boy you'd suckled, bathed, scolded and cried over was—well—wasn't.  Partageuse joined the world late and in a painful labor.
The struggle of these plain people to come to terms with personal tragedy wrought by the life of war and its legacy of loss is magnified by its unheralded and unimaginable nature.  Every conceivable rule is broken.  It brought to my mind the price already paid and the debt yet to come due for the million-plus of our own families who have been ground down not just by war, but wars for which moral justification was invented and in which artillery, gas, and orderly, entrenched battle are replaced by RPGs, IEDs, and close-order combat with an enemy hidden or disguised.  Stedman delivers the lesson that Post-Traumatic Stress Disorder, or however we choose to label coming to terms with surrendering to our darker nature, is nothing new.  It ruins us.
Through all their suffering, though, these Partageusans manage a dogged dignity that both sustains them and leads them to make the emotional compromises needed to hope, love–however uncertainly—and live again.  As Hannah, the marooned infant's mother, lies exhausted by the struggle to regain her, she recalls a conversation with her dead husband, Frank Roennfeldt, who was driven into the boat with the baby by a drunken mob after "the Hun:"
"But how?  How can you just get over these things, darling?…You've had so much strife but you're always happy.  How do you do it?"

"I choose to," he said.  "I can leave myself to rot in the past, spend my time hating people for what happened, like my father did, or I can forgive and forget."

"But it's not that easy."

He smiled that Frank smile.  "Oh, but my treasure, it is so much less exhausting.  You only have to forgive once.  To resent, you have to do it all day, every day.  You have to keep remembering all the bad things."  He laughed, pretending to wipe sweat from his brow.  "I would have to make a list, a very, very long list and make sure I hated the people on it the right amount.  That I did a very proper job of hating, too: very Teutonic!  No"—his voice became sober—"we always have a choice.  All of us."
Stedman helps us to admire these people, past their flaws and intemperance, through her loving chronicle of their fallibility and perseverance, through machinations that always inform and entertain.  Redemption here is reasonable and hard-earned; it's finding the strength and humility to get on with it, in peace.
At last, I have only one quibble with Stedman.  She mixes past and present tenses, to distinguish the here-and-now from reminiscence in the same voice.  I get the device, but it interrupted the current of her prose enough to slow the flow for me.  Blame eight years under the Sisters of the Holy Cross, student journalism, and a minor in English.