Did you know that–besides enjoying them in my collection, Matters Familiar–you can sample and buy each story individually?
Today's tour of those stories stops at the halfway point of the collection's 12 stories–Number Six: "The Jewel of Genoa:"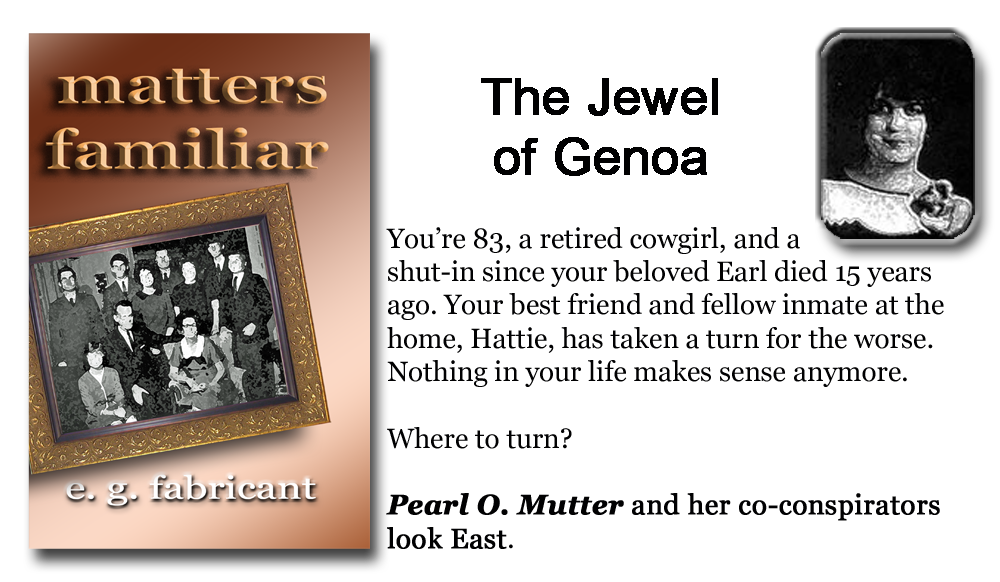 "The Jewel of Genoa" was my first story and remains my favorite.  The loss of honor and independence among our elders that occurs when our youth-obsessed culture shunts them aside, despite their skills, experience, and wisdom, was its inspiration.  Pearl and Hattie, a "retired" cowgirl and saloon keeper, ain't done yet.  Drugs, kidnapping, interstate flight–and hilarity–ensue.
Click here to view the video in which I introduce "The Jewel of Genoa" and read a scene from the story. You're invited to sample and buy the story–or the collection, as you choose.
I'd love to know what you think about the story's premise and its characters. Feel free to share your observations here or on my Facebook page.
Happy tales!