Ever consider the human side and consequences of all those "political scandals" you can't avoid watching, hearing, or reading about?
That's the premise behind "Term Limit," the final story in my first collection, Matters Familiar, which you can have in e-Book form for less than a dollar (plus tax).
Here's an introduction: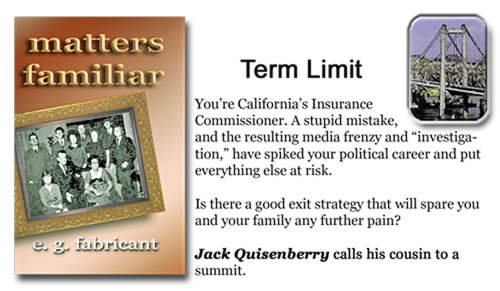 John Quincy "Jack" Quisenberry was one of a now-extinct species–a moderate California Republican–and a rising star.  A three-term Assemblyman, he was elected to statewide office and a contender for Governor until his own personal mistakes threatened to run him out of office, politics, and his marriage.  He turns to his cousin, a venerable Capitol journalist, for personal advice and counsel.
Click here to view the video in which I introduce "Term Limit" and read a scene from the story. You're invited to sample and buy the story–or the collection, as you choose.
I'd love to know what you think about the story's premise and its characters. Feel free to share your observations here or on my Facebook page.
Happy tales!