Miss the wit, wisdom, and drama of your all-time favorite serial TV mobsters from New Jersey, but not the violence?
Maybe this will help. Download "Robbin' Hood," the 11th of a dozen stories in my first collection, Matters Familiar, for less than a dollar (plus tax).
Here's an introduction: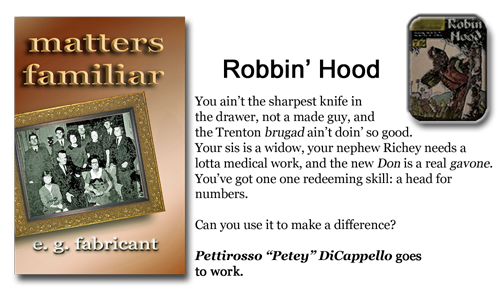 Early in my career, as counsel to a Hill subcommittee on crime, I learned that the city of Trenton, New Jersey had a reputation for small-time mob activity–which apparently hasn't diminished.  That was the inspiration for "Robbin' Hood."  Join Pettirosso "Petey" DiCappello and his fellow soldate for their adventures in the 'Burg.
Click here to view the video in which I introduce "Robbin' Hood" and read a scene from the story. You're invited to sample and buy the story–or the collection, as you choose.
I'd love to know what you think about the story's premise and its characters. Feel free to share your observations here or on my Facebook page.
Happy tales!