Improve your mind:
Learn Zen 101 in under an hour;
Indulge your basic distrust of attorneys, guilt-free; and
Laugh yer arse off, in the bargain,
For less than a dollar (tax excluded).
How, you say?  Simple: download "Pipe Dream," the 10th of a dozen stories in my first collection, Matters Familiar.
Here's an introduction: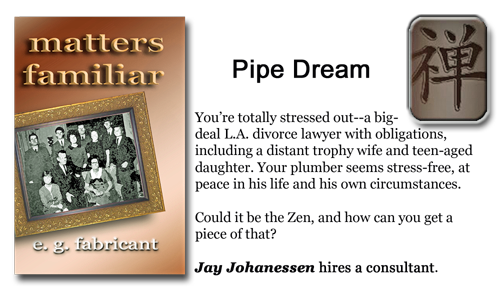 "Pipe Dream" is the result of a dare from a friend and fellow ambulance chaser: Turn a lawyer joke into a full story.  (Name omitted to protect the guilty–and out of professional courtesy.)  I won't bore you with the whole setup; here's the punch line:
That's more than I billed out as a senior associate, as well.
Click here to view the video in which I introduce "Pipe Dream" and read a scene from the story. You're invited to sample and buy the story–or the collection, as you choose.
I'd love to know what you think about the story's premise and its characters. Feel free to share your observations here or on my Facebook page.
Happy tales!