Did you know that–besides enjoying them in my collection, Matters Familiar–you can sample and buy each story individually?
We're over the hump–today's featured story is seventh among 12: "Medalists."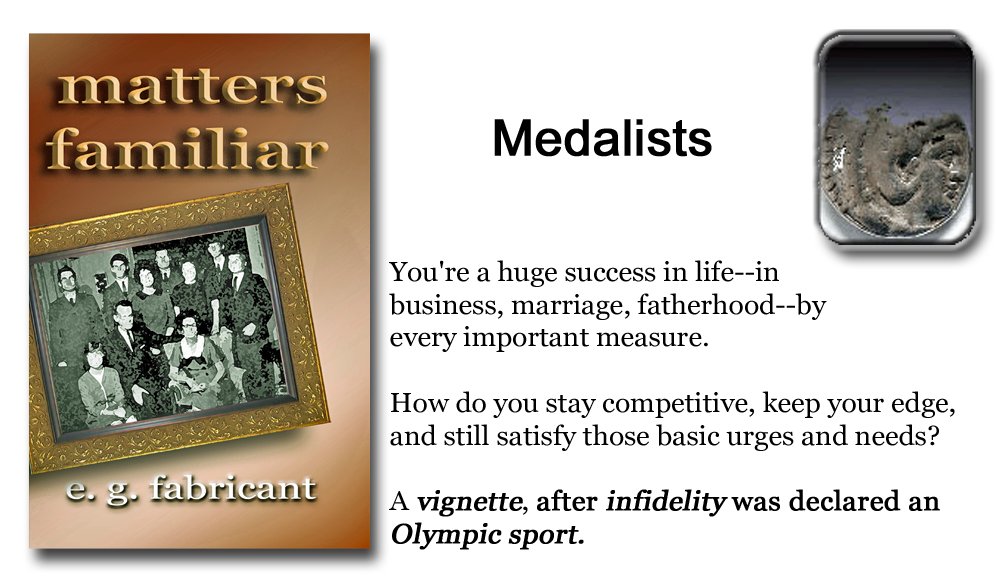 "Medalists" was–as they say in the movies–"inspired by actual events."  A while back, while soaking in a hotel spa after a workout, I encountered a woman who seemed too finely turned out for actual perspiration–including makeup and jewelry.  I formed the impression she was trolling, which was at once flattering and kind of disturbing.  That's as far as it went but, as usual, my imagination ran away with me.
Click here to view the video in which I introduce "Medalists" and read a scene from the story. You're invited to sample and buy the story–or the collection, as you choose.  (WARNING: Though I use only grownup terminology, "Medalists" is sexually explicit.)
I'd love to know what you think about the story's premise and its characters. Feel free to share your observations here or on my Facebook page.
Happy tales!