You're cordially invited to sample each of the stories in my collection, Matters Familiar.
Today's tour stops at Number Four of the collection's 12 stories: "Gemini:"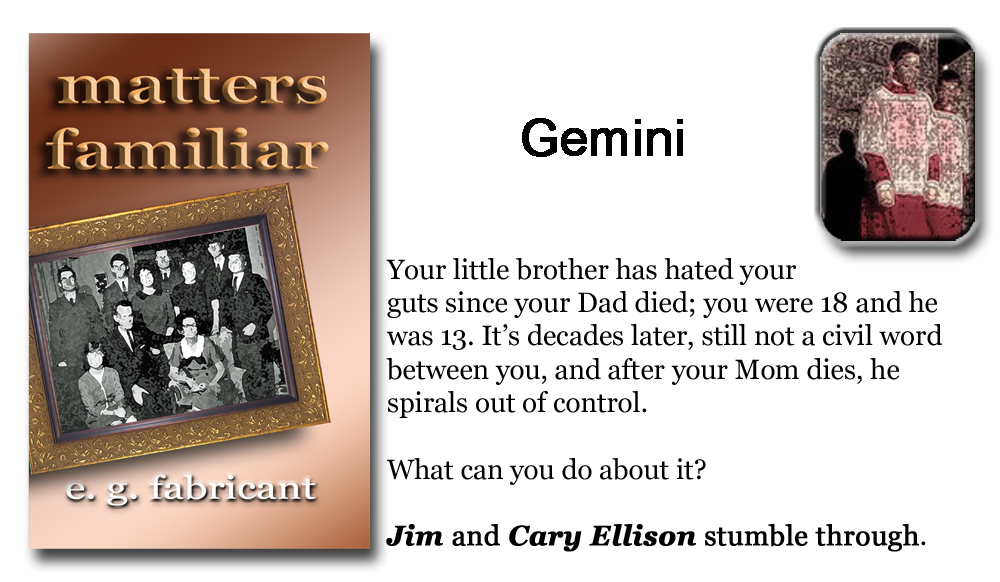 "Gemini" was inspired by the kind of conflict that life can hand out among family members, especially in larger ones. (I grew up with four brothers and three sisters. We were Irish-Catholic in a state whose culture was dominated by another religion.  My Dad used to say, "Your mother and I are members of Pope Paul's 'rhythm-and-blues' band."  If you don't know what that means, leave a comment and I'll explain.)  "Gemini" unfolds between my current home town, Sacramento, and San Francisco's East Bay.
Click here to view the video in which I introduce "Gemini" and read a scene from the story. You're invited to sample and buy the story–or the collection, as you choose.
I'd love to know what you think about the story's premise and its characters. Feel free to share your observations here or on my Facebook page.
Happy tales!