If you're anywhere near Face in a Book bookstore in El Dorado Hills tonight, before 8 PM, do drop in for the book launch party of The Dog with the Old Soul.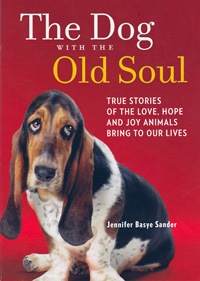 (Don't worry if you're a little tardy; we're mostly very fond of the grape, which will be served, so we'll likely stay until invited to leave.  Personally, I'm of Irish-Catholic derivation.  Not only has wine had divine significance in my life, me people are known to "remain until the last dog is hung," as me sainted Mam used to say.  Me Dah—not quite so genetically infected, used to say, "Betty, let's go to bed so these lovely people can go home.")
Why show up—besides free drink, and food?  Well, because I'm a contributor.  What did you expect?
Seriously—I am but one of 26 contributors, seven others of whom are also from around here.  More on them in a minute.
What makes this book unique?  First of all, it's published by Harlequin.  (Yes—that Harlequin.)  When Jen told me that, I'd have demanded proof, if I wasn't so lazy.  Who knew they had a non-fiction division?  That fact astounded even my wife, our resident Anything-Gothic-Mysterious-Romantic-Anglophile.
Here's the official book blurb:
Few relationships are as simple—and rewarding—as those between man and animal. From the loyal dog who risks his own life to rescue a drowning boy to the lost kitten who comforts a grieving woman to an abandoned horse and foster child who come to save each other, these inspiring true stories highlight the hope, healing, happiness and—most of all—unconditional love animals bring to our lives. Whether you love sloppy dog kisses, melt at every kitty meow or give your heart to horses, birds or even moose, this heartwarming collection is one to treasure.
My review:  This is penetrating, well-written stuff, all around.  I like to imagine myself as a Grand Master candidate in the worldly and cynical categories.  I'm seriously allergic to high-shedding dogs and all cats; I can't even tolerate a kitty on YouTube.  I laughed and wept as I wrote my own remembrance—to be expected, given the subject.  So did my sons, who—as a special needs teacher and combat rescue officer, respectively—are no pushovers.  For me, the value in the exercise was just doing it.  I had the same experience with each of my fellows' essays.  Charming and straight from the heart they are, each and all.  I am honored to be included in such company.
My partners in crime:
Our wrangler, counselor, and bail bondsperson is Jennifer Basye Sander, cofounder of a splendid Facebook group called Writers Who Wine—on which page we seek her counsel and comfort.  (Most of this region's contributors are members.)  She's a well-established author and book packager of more than 50 titles on topics as varied as The Complete Idiot's Guide to Getting Published (over 100,000 copies sold, now in a fourth revised edition) to The Martini Diet, and many more in between.  A former editor for Random House, she runs weekend writing retreats in Lake Tahoe, Write By The Lake , and in Washington's Skagit Valley, Write At The Farm.
Elaine Ambrose ("The Old Barrel Racer") is the co-author of Menopause Sucks and Drinking with Dead Women Writers. Her short stories and feature articles appear in several anthologies and magazines, and she owns Mill Park Publishing.  She organizes "Write by the River" writers' retreats in Idaho and creates a sassy blog called "Midlife Cabernet."  (NOTE: I took liberties with the definition of "regional" here for four reasons:
(1) She likes drinking;
(2) She likes using the word "sucks;"
(3) She lives in Eagle, Idaho—just up the road a piece from Boise, where I growed up; and
(4) My first wife, who bore me two beautiful boys and who also growed up there, was an all-around equestrienne, from barrel racing to hunters-over-fences.
Find much more about her at ElaineAmbrose.com.
Robyn Boyer spends her daylight hours writing about public policy, politics, and people. In that capacity, we've crossed paths enough over the last two decades to call each other "Pal."  "The Nursery" is the first story she's written about animals.  She lives here in Sacramento and has a daughter and a cat.
Maryellen Burns ("Too Many Cats in the Kitchen") has been involved in the word trade for more than 40 years, working with writers, publishers, libraries, and booksellers in editing, research, public relations, and events planning.  Her work has appeared in newspapers, literary anthologies, The Smithsonian, and Cooking Light.  When not writing, she's engaged in helping others get their words on the page and into the marketplace.  Visit her at BookTalkSacramento.
Kathryn Shaeffer Canan doubled down for us with"Mother Knows Best" and "Psychic Cat."  She qualifies as pretty much a native because, whenever the family cabin in Montana is buried in snow, she's down here with her husband and two psychotic cats.  She's a freelance writer, Latin tutor, and early music teacher and performer; she has recorded CDs of medieval and Renaissance music with Briddes Roune and the New Queen's Ha'penny Consort.  Her Master's thesis on Anglo-Saxon medicine qualifies her as one of the few experts in diseases caused by malevolent elves.  (Besides her wonderful word packages, she earns extra points from me for spelling her given name correctly, like my late sister.)
Poet, writer, and visual artist Trina L. Drotar ("Little Orange") has been published widely and is currently working on In the Night Garden, a collection of poetry, prose, and art.  Cats in need always find her.  Reach her by email at TrinaLDotar-at-GMail–dot-com.
Pam Giarrizzo ("Kissing the Whale") is a retired attorney living here with her political-consultant husband, Phil.  Their son, Zack, is a freshman in college.  Pam is a founding member of the Sacramento Women's Action Network (SWAN), a giving circle provides funding to nonprofit organizations serving the Sacramento area.  She also serves on the boards of the California Museum for History, Women, and the Arts, and the LifeSet Network, which assists young people who are transitioning from foster care to adulthood.  She is the author of the Sacramento Vegan, which identifies restaurants in our area that offer menu choices for vegans.
Cosmo's tale, "A Nose for Love," is from Dena Kouremetis, consumer journalist, author, and would-be shrink.  She loves to examine life from a midpoint perspective.  She is a national columnist with three channels at Examiner.com, has authored, co-authored and contributed content to dozens of books, and loves to speak to groups about how our online presence speaks volumes about us.  She welcomes visits to her website.
My contribution is "Frank Observations," an ode to our beloved mini-dachshund–less a canine retainer than our sons' little brother:
* * * * *
"In short, Frank was not just ours, he was us, in whatever  incarnation required.  He was embarrassed by the whole dog butt-sniffing ritual and considered other canines' loud, energetic curiosity about him undignified.  In fact, his only acknowledgement of another's very existence was a cursory "wuf," uttered after that other creature was safely out of range.  For 15 years, until his brothers graduated college and it was the late summer of 2000, he was the perfect relative and ever-accommodating host…"
Y'all drop by now—Hear?